Coconut Oil Benefits For Hair. Coconut is a fragrant and delicious fruit that has numerous advantages for healthy skin, foods, eyes as well as hair. In this article, the uses and benefits of coconut oil are behind presented in order to spread awareness among people for the magical advantages of this oil that is a natural serum for healthy, long, silky, and heavy hair so this article is a piece of good news for the people who are tried up after using the costly product for the problems of hair fall and weak hair so they should come to know that coconut oil is a single solution of all hair problems and gives heavy healthy hair. As coconut oil is packed with vitamins and fatty acids that are supportive to nourish the scalp and absorbs in the roots of the hair.
Major causes Of Hair Problems:
Healthy, shiny, and heavy hair is a dream of everyone but nowadays more than 70% of people are worried about their hair issues and this is due to the use of unhealthy food that has become a part of life. One of the most common issues of hair is hair falling and dry hair that occurs due to a lack of taking calcium-rich diet. Another issue is greasy hair due to the irregular production of sebum that is a big issue and your hair has a poor look. But here is a remarkable solution of all these hair problems that is not expensive and has no any side effect that is the use of coconut oil.
How Coconut Oil Preserve Hair Health:
Excessive use of Shampoo damages hair and ends their natural moist that leads towards dry and damaged hair. It is not only dry hair but also affects hair growth so it is necessary to have a permanent solution of these hair issues otherwise you may suffer hair fall that is difficult to restore. Oiling is a solution of all hair issues so try to have a champ of coconut oil that removes the dryness of hair roots and makes them soft for growing new hair. Coconut oil has fatty acids that resort the damaged hair and penetrate in hair and makes hair soft and silky.
 Use Of Coconut Oil:
It is a simple and easy way to use coconut oil in summer and winter as well. Try to take a good quantity of oil and start to oiling from the hair ends and step by step come to the roots of the hair. The roots of the hair absorbed oil and progressed that growth of hair. It is also authentic for dry and frizzy hair and regular use of coconut oil is also beneficial for the people who are worried about the hair falling and week hair. It is rich with vitamins and fatty nutrients that are also good for the brain and reduces stress. In the case of dry and damaged hair, it is fine to apply oil at night time and leave for the whole night and have a shampooed shower in the morning and have smooth and silky hair. But it is essential to use it regularly.
For Dye Hair:
It is here important to mention that coconut oil has countless advantages because coloring and high lights of the hair cause of hair dryness and damage so it is a great tip if you have a little quantity of coconut oil on the hair before coloring and highlight that is a fantasy that protects hair from damage and dryness as well and hair loss.
Massage of Oil:
Split ends and frizzy hair is such a great challenge that is difficult to manage because this sort of heir becomes more dry and frizzy after coloring and straightening but if you use regularly use coconut oil before shower and shampoo than it is a good thing to saturated dry hair and also repair split hairs and helps to grow rapidly.
Use of oil in Winter: 
Coconut oil is a natural solution of rough hair but it is a bit hard to use in winter because it becomes hard in winter like vanaspati so don't give up the use of oil but it should be heating up a bit and after the massage, wrap hair in a hot water wet towel.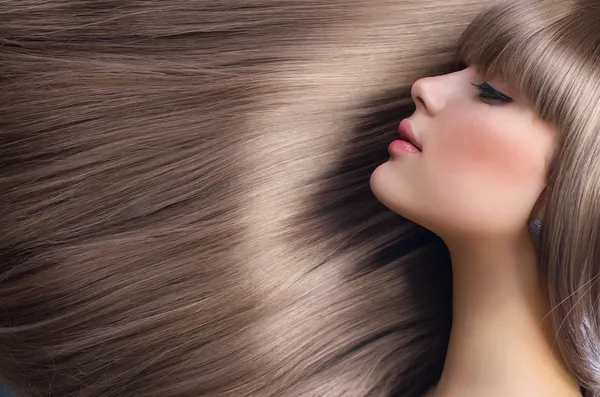 Why Coconut Oil is Helpful For Hair:
Coconut is rich with multiple minerals and vitamins that are highly crucial for hair. For illustration, coconut oil has a fine quantity of vitamins E, K that restore the deficiency of hair health minerals. It is also antioxidants that are lackluster hair preservation. Coconut oil also has zinc and iron that are very helpful to improve scalp hair and enhance hair strength and oxygenation of hair follicles.