Forehead Rashes, Causes, Treatment, PreventionThe beautiful and clear face is the center of attraction and everyone wants it but sometimes redness, rashes, and irritation appear on the forehead that has much cause and needs proper treatment for getting rid of this beauty affected situation. It is necessary to know the causes, symptoms, and solutions of this skin problem. It is a medical research-based article that has a complete guideline about the treatment of forehead rashes. Major reasons for forehead rashes may be redness, blistering.otching, acne, allergy, lesions, flaking. 
Major causes of Forehead Causes:
Due to Viruses

Bacterial staphylococcal

Chickenpox

Measles

Impetigo

Folliculitis

Ringworm

Shingles

Allergies
Bacterial Infection:
Bacteria is a big reason for skin diseases and infection. Sometimes improper cleaning conditions can become a cause of skin infection.in case of sweating, it may occur forehead rashes so it is necessary to have a soft cotton cloth or tissue for cleaning sweat and avoid bare hand for skin scratching. Sweat also a reason for forehead rashes.
Viruses:
Viruses are another reason of forehead rashes as it spread rapidly on the whole forehead and causes black spotting and pimples so it needs proper care and sees your dertemolgist for instantly.
Bacterial staphylococcal:
This is a common skin infection that causes forehead rashes. It is also known as a staph infection that occurs due to bacteria that are present in alive conditions on the skin. It is very common skin issue in European countries. It appears in the form of little pimples that spread rapidly on the whole skin and cause inflammation and irritation. It needs to see a doctor instantly because it may be a cause of skin damage.
Chickenpox:
Chickenpox is a disease that is suffered from everyone once in life. It appears in the form of water spotting on the whole body as well face and it leaves probably forehead rashes. Chickenpox produce painful rashes and spread rapidly so it is essential to avoid touching them with hands and its major symptoms are fever, stiffness, and fatigue but it disappears over two weeks. It is necessary to keep separate patients from other family members as It is a form of contagious disease.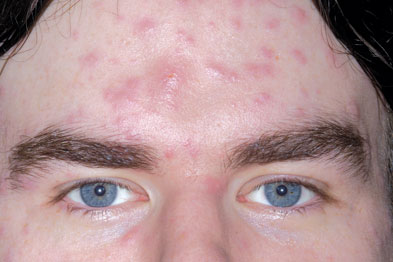 Measles cause Forehead Rashes:
Forehead rashes may appear due to measles that are identified by the red spots on the whole body and its other symptoms are high fever, red and sore eyes, and running nostrils. Measles is a pain that is hard to bear. Due to measles, red bumps appear on the forehead that healds after a week.
Impetigo Infection:
Impetigo Infection is another serious cause of forehead rashes. Impetigo appears in the form of a group of spots on the forehead that increases rapidly. It is a contagious infection and if it touches it may appear on another person.so it is necessary to see dermatologists and use a medication that removes it and its marks as well. Sometimes these spots are filled with yellow colored pus and it mostly found in the people who live in a hot climate.
Folliculitis
Folliculitis is a common skin issue that occurs due to hair follicles. Hair follicle cause rashes, redness, and irritation. It is a type of staph infection and its bacteria is found in the hot water. It may develop after shaving.
Ringworm Infection:
Fungie is a form of health harmful bacteria that appears in the water and grows up by feeding the dead and rotten plant. It is a big reason for skin infection and skin allergies as well as nail abnormalities. This infection appears in the form of ringworm that is itchy, red, sored on the forehead, and needs great care particularly it is necessary to take care of the cleaning water tanks.
Shingles:
Shingles start with severe pain and blistering on the skin of the forehead. After some days, blisters break out. It may because of forehead rashes because it occurs due to the same virus that becomes the cause of chickenpox that is alive on t5he skin.
Treatment  Forehead Rashes
Treatment of forehead rashes depends on the nature and causes of rashes. Some people use medicins and beauty products in order to get rid of These rashes. A vivid range of soaps, face washes,gels, and creams are available in the markets to cure for skin issues as these products are formulated with benzoyl peroxide, salicylic acid, retinol, resorcinol. It needs time to heal the rashes and removing scars from the skin so it is necessary that consult you, dermatologist, before using any home remedies and medications.
Use of Aloe Vera:
No doubt home remedies are very beneficial for skin treatment and aloe vara is the top listed ingredient that plays a vital role in the recovery of clear and beautiful skin.so it is a beneficial tip to use aloe vera oil directly on the forehead for getting rid of rashes.
Use Of Tea Tree Oil:
Tea tree oil is also known as a soothing lotion because it is formulated with a natural herbal formula that removes dead skin cells gently and gives a healing touch to forehead rashes.so take a few drops of tea tree oil and mix it in water and apply on your forehead with a cotton pad once a day.
Use Cold Cloth:
The most effective way to get rid of painful rashes is the application of cold water and cold cloth and cool water shower because the use of cool water brings relief from blistering immediately. It is also beneficial for redness and swelling.
Don't Take Stress:
Stress is the root cause of many skin and body diseases so it is necessary that aviod stuff your mind with futile and stressful thoughts that affect badly your skin and mind. However, it is a fact that forehead acne and rashes appear due to mental stress.
Use Of anti-allergic Creams:
Mostly, allergies cause of forehead allergies that are treated with medicated creams. So in case of allergies, it is necessary to avoid the use of excessive products and creams. So try to consulate your dermatologist for a fine solution.
Prevention:
Cleaning and use of proper face-washing with an antibacterial soap that prevents skin from bacteria and viruses that causes skin infection and forehead rashes. It is also essential to avoid touching your affected area. Here is some caution that plays a vital role to avoid serious skin issues like in the condition of forehead rashes, do not use a hat that covers your forehead.
Don't use excessively beauty product and avoid to touch affected skin
Do not pick or scratch rashes on the forehead
Wash your face with antibacterial face wash
Wash your hands regularly throughout the day
Don't go into sunlight
Aviod to use home remedies without any consultation.