Internal Heterochromia. Heterochromia is a situation in which someone takes birth with different colored eyes irises. There are various issues behind this heterochromia condition. It has a different condition of the iris that has multifarious situations like partial and complete. For illustration, when one eye color is blue and the other is brown it is heterochromia in a complete sense while when it is a bit different in the shade of iris, it is called partial heterochromia. It is also categorized with the accordance of different irises color. The word heterochromatin has been taken from the Greek language that means color difference. It is not a common issue and less than 2 % of people suffer this problem. It is not specific in human beings but also it is also found in animals and pets like goats, cats, dogs, and many more.
Heterchromia Symptomes:
The simplest symptoms are iris color differences. It generally affects the face and also recognized due to dropped eyelids and small pupils. Heterochromia develops due to genetic diseases that appear in the form of the color-changing of eyes skin, and hair. If you observe that there is a difference in the irises in the eyes, it means it is a sign of internal heterochromia.
Major Causes:
Often people born with heterochromia conditions but they don't have any other health issues but it may develop due to various diseases they are following.
Horner Syndrome:
It is a condition that occurs due to the damage of nerves that are interconnected with the brain and eyes. It generally affects one side of the face. It also causes droopy eyelids and pupils seem small on this side. It is not a serious condition because it remains the same and does not appear in any other damaged condition. It also formed due to Waardenburg syndrome that is the result of genetic disease and also appears in the form of hair color, iris color difference, skin color difference, and sometimes also cause of hair loss.
Piebaldism: 
Piebaldism is a harmless state that takes place due to the deficiency of pigmentation in the skin, eyes, and hair. The people that suffer in this condition observe light colors in their skin, hair, eyes than normal states.
Weber Syndrome:
A definite condition in the brain skin and eyes imbalance abnormal state owing to the unstable progress of certain blood vessels. People who are suffering this condition generally have bluish marks on their skin and face. It has a another cause that is parry Romberg syndrome in which skin and face skin damage it also risks for the face bones but it is not a common disease and found in 2% out of 100.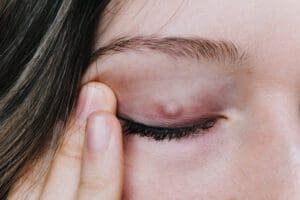 Hirschsprung disease:
Hirschsprung disease is a fatal health issue that damages the large intestine. Generally, newborn babies and toddlers become victims of these diseases. There are various issues behind this . is not a common health issue and rarely found in people it is shown in the form of tumor that is non-cancerous. These tumors arise often in the organs of the body like the heart, brain, skin, eyes, and lungs.
Neuroblastoma:
Neuroblastoma is a form of cancer in the nervous system. It mostly affects infants and little children. Other major causes of heterochromia are Fuchs' syndrome, Glaucoma, and Melanoma of the eye that causes eye vein blockage which brings blood and other fluids in the eyes.
Diagnosis and Eye Treatment:
Heterochromia is generally diagnosed by an ophthalmologist who checks eyes to be assured about the real issue of infection. The most common way is a genetic blood test. Heterochromia is not a fatal issue that needs no treatment but in case of other issues and face effect it is better to see a doctor but in case of serious injury or particular disease symptoms than it needs treatment but in case of blood or liquid leaking it needs surgery or treatment according to the recommended by the doctor.