What Causes Moles to Suddenly Appear? Moles are a common skin problem that is ineffective for face beauty. Generally, light-skinned people suffer from skin moles. It appears due to cell pigmentations. Nevus is a traditional name for moles that is a word of Latin having the meaning of birthmark. Moles appear due to hormone problems and in an adult, it appears due to ton pregnancy and its medication. Often moles are in different colors like pink, brown, dark brown, and black. Moles can appear anywhere of the body. Moles are free from any particular disease but in case of adult age, it is necessary to see a dermatologist to be assured about their causes of appearance.
Kinds Of Moles:
Moles are categories in various types that all types are different in their nature and moles solar as well as the size and producing reasons.
Congenital Moles:
This kind of moles is also called birthmarks and vivid in their size, color, and size. Generally, moles can be treated with cosmetics in childhood. The option of treatments is surgery, skin resurfacing, skin top shaving, laser treatment. But it is a great risk of such treatment in case of big sized moles so it is better to avoid the risk of malignant.
Acquired or Small Moles:
Acquire moles are small-sized moles that appear on the skin after birth and can appear at any part of the body. These moles are common in fair and light skin people. These moles are round in shape. These moles are raised in their shapes and can be rough or smooth on the surface. Their colors are black, brown, pink, blue, or skin-colored. They are small in size and generally unchangeable. It is very dangerous in case of having more than 50 moles because they may be cancerous so it is necessary to see a doctor.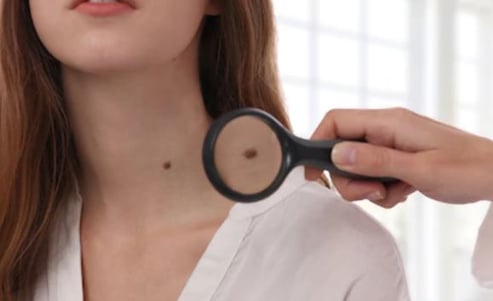 Dysplastic Nevi:
Dysplastic Nevi can appear at any part of the body. These moles generally appear on the neck, head, scalp, and not at the face. Atypical moles may be dangerous so it is necessary to see your doctor regularly. Atypical moles are improper in their shape and different in their colors. These moles are bigger than a pencil eraser. It is generally found in the light skin people. Its major shape is uneven borders and pebbled in texture.
Cause of New Moles Appearance:
Mole production in adults is not a good sign because it may be cancerous. Another major cause is melanoma. It may appear due to the imbalance of hormones. Pregnancy is also the reason for brown moles production due to the changing of hormones. Moles may be made up due to medication because some medicines also cause of mole production. Furthermore, moles increase due to age growing effects. Some people are fair and lighter skin and red hairs on the skin also the reason for moles production. Moles also are found in inheritance. Sun burning, sun exposure, and tanning bed use are also may reason for skin moles.
Warning:
It is integral to see your doctor in case of moles appearance in adult age. If the mole is aching bleeding, painful, and has a red circle so it is necessary to see the doctor in order to avoid severe results. It is also better to check your moles and their nature by yourself and if you find any irregular sign than better to see a doctor instantly.